Trudy (Barr) Admanson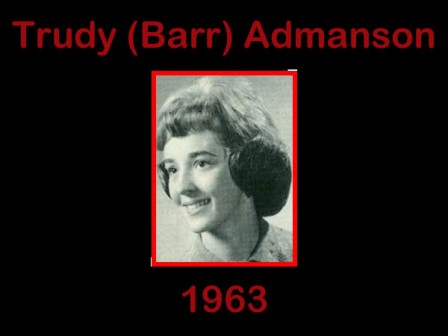 February 9, 2013
Obituary
Trudy A. Adamson, 67, of Upland, IN, and having family members in Huntington, IN, died Saturday morning, Feb. 9, 2013.
Mrs. Adamson graduated from Huntington High School in 1963. She was a homemaker and a member of Hanfield United Methodist Church, Marion, where she volunteered with the food pantry, funeral dinners and nursery.
She was born in Port Huron, MI, to Stephen and Marion "Betty" Lincoln Barr. Her mother survives in Huntington. She married David Adamson on
Nov 15, 1964, in Ringgold, GA. Her husband survives in Hartford City.
Additional survivors include three sons, Jeff (Kandi) Adamson, of Upland; David "Mike" (Debra) Adamson, of Memphis, TN; and Robert (Annette) Adamson, of Huntington; two brothers, Steve (Pam) Barr and Robert (Linda) Barr, both of Huntington; two sisters, Barbara (Keith) Carlin and Sarah (Tom) Gearhart, both of Huntington; and nine grandchildren.
Calling is Monday, Feb. 11, 2013, from 2 p.m. to 4 p.m. and 6 p.m. to 8 p.m. at the Hanfield United Methodist Church, 101N-400E, Marion. A service will be held at the church on Tuesday, Feb. 12, 2013, at 11 a.m., with calling one hour prior to the church. Rev. Tim Helm will officiate. Interment will be at Jefferson Cemetery, Upland.
Jones-Smith Funeral Home, Upland, is in charge of arrangements.
Online condolences may be made at Jones-Smith Funeral Home Web Page.
---